We chatted with Liz Baill, Collections Interpreter for Youth and Families, to learn how inspiration from one of our most beloved galleries shaped the content and design of our newly released book, Armor & Animals
---
Hi, Liz! Thanks for chatting with us today. Tell us about your role at the museum.
I spent many years teaching and developing museum programs for kids and families and always delighted in disrupting our quiet galleries with play, movement, and laughter while looking at art with our youngest visitors. My work now focuses on translating these experiences into resources that families can use on their own to approach the collection in creative, imaginative, and accessible ways. This includes the development of family guides, gallery labels featuring kids' interpretations, and our new children's publications.
What are some ways parents can help kids get the most out of a museum trip? What are some good questions to ask as you're walking the galleries?
Kids have a way of looking at art with an openness and candor that all of us can learn from. The most important thing is to welcome any and all observations or questions, and to suspend the belief that there is a right or wrong answer. Questions like "What do you see?" or "What do you wonder about this artwork?" can open the floodgates. Just be ready to validate their response, or to ask, "What do you see that makes you say that?" Other fun ways to explore include imagining what happens next in an artwork, describing your five senses as you take an imaginary walk in a landscape, playing I Spy, or coming up with silly titles for different artworks. In the armor gallery, my go-to opener is, "Walk around and pick out a suit of armor that you would choose for yourself. Now choose one for your grown-up." And always remember to ask why they made those choices!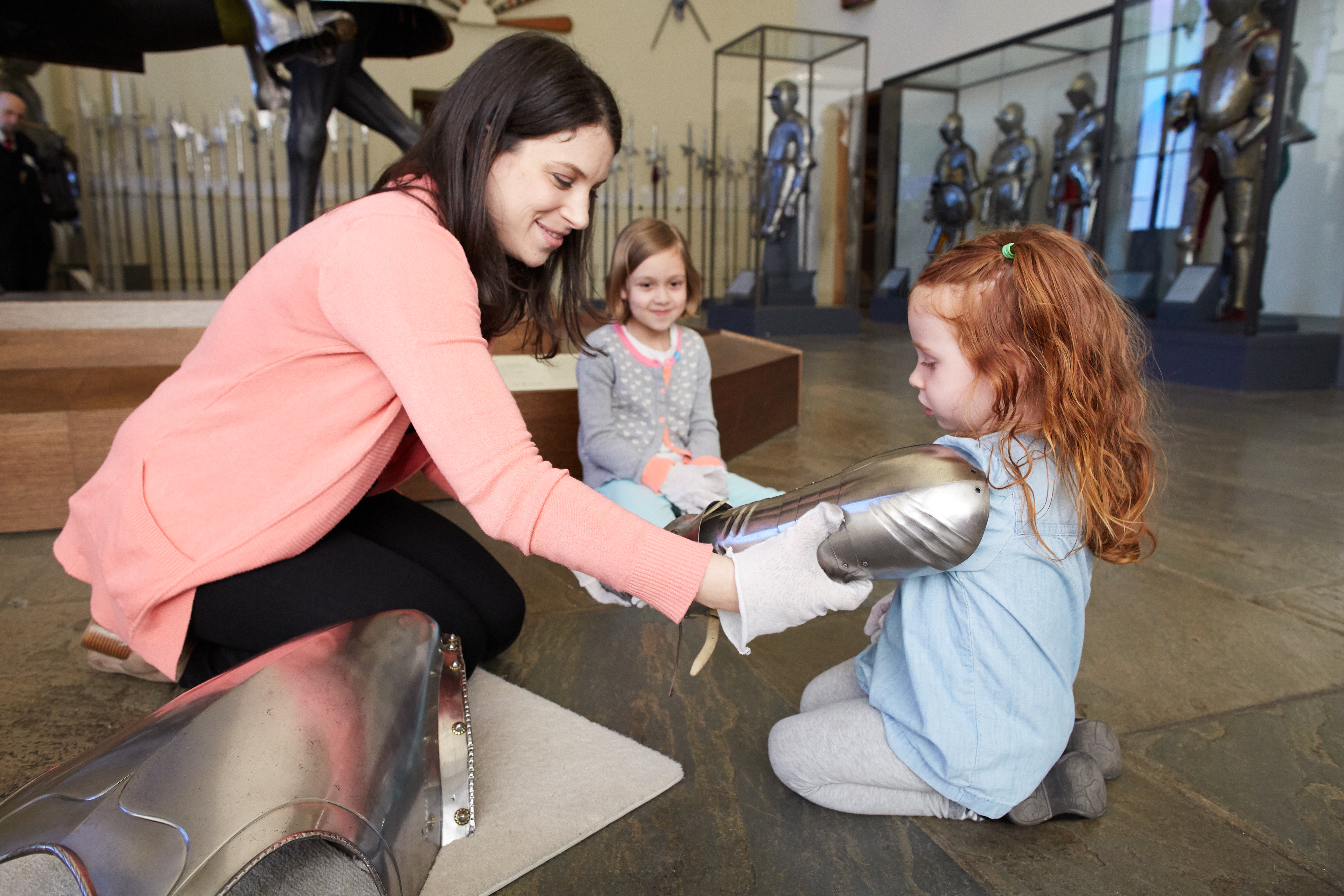 Liz Baill, pictured in 2018, running a workshop for children. Photo Credit: Elizabeth Leitzell
How did you get the idea for this book?
When I was learning to teach in our armor collection over a decade ago, I observed other educators comparing the way plates of armor resemble the shells of lobsters and armadillos. I always thought this was such a fun and effective way of thinking about armor. Years later, in the summer of 2017, the PMA's family program Art Splash was themed around animals and inspired by Wild, an exhibition of wildlife photography by Michael Nichols. To coincide with this exhibition, we created an interactive kiosk for our armor gallery so that families could compare photos of animals with suits of armor. A few years later, when the museum's Publishing department approached us for ideas, this kiosk became our jumping-off point.
Why do you think there is such a fascination with the Arms & Armor gallery from kids of all ages?
When we pull out our armor cart for kids to handle pieces of armor, almost as many grown-ups as children line up. There's something about this gallery that instantly sparks curiosity and transports people to another time. For many visitors, these objects conjure enchanting thoughts of princes, princesses, castles, and dragons. Visitors are filled with questions and want to unpack many of the myths they've heard about knights and armor. How much does it weigh? (Not quite as much as you might expect.) How did they go to the bathroom? (It's tough but not impossible.) Is it true a crane had to lift knights onto their horses? (Nope.) People come with lots of ideas and even some misconceptions about armor that become a starting point for looking, learning, and wondering. I also think the fact that people actually used and wore these works of art is captivating. The human connection to their history is clear just by looking.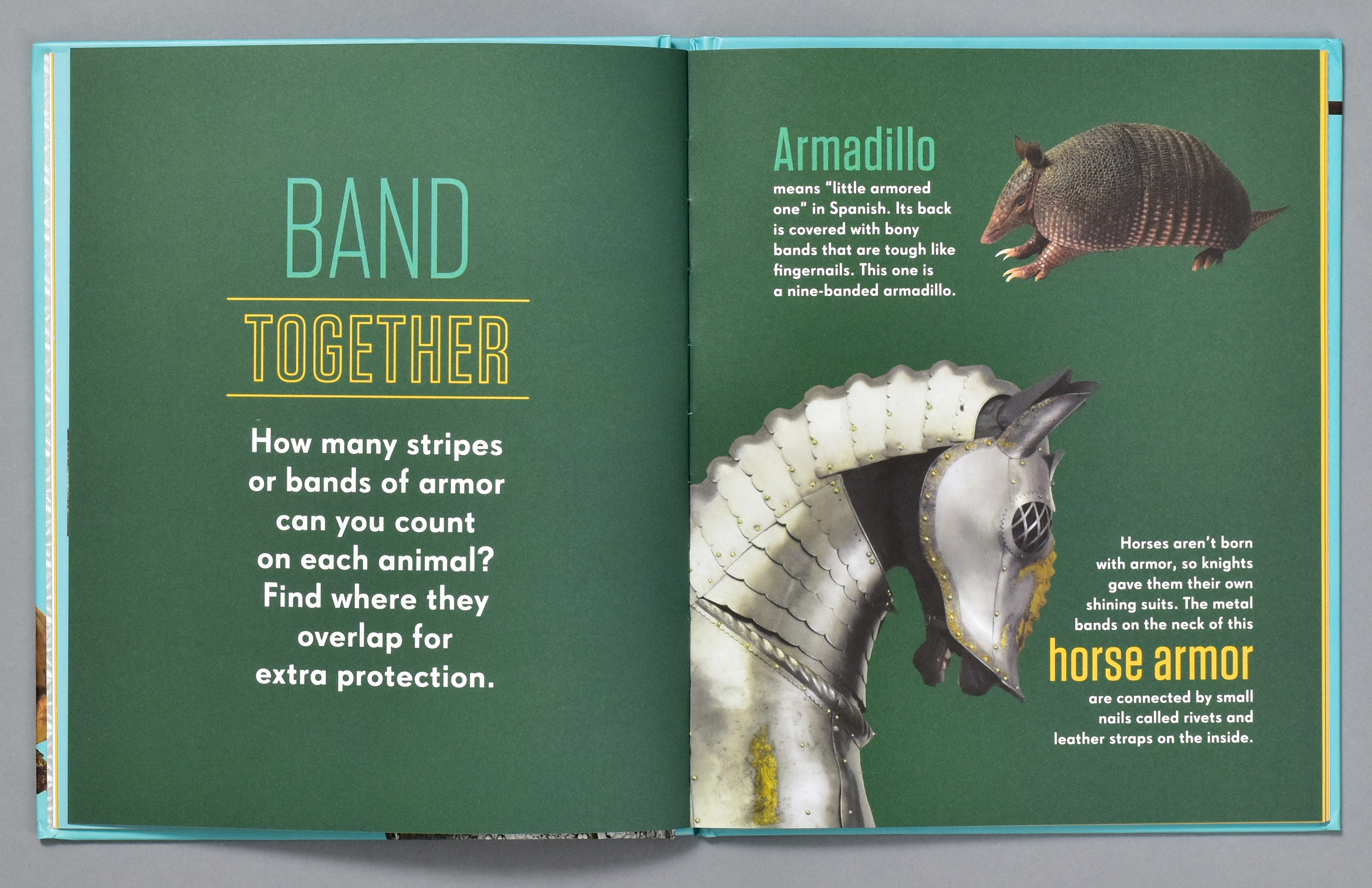 Tell us about the process of writing a book for the museum. Who is involved, and how do you decide on final look and feel?
I worked closely with editors and graphic designers to rethink the original kiosk content as a book. Our curator of Arms and Armor, Dirk Breiding, also carefully ensured the accuracy of the text, as did several other fact checkers with expertise in animals and wildlife. We got feedback from the Retail team as well. Then our Editorial and Graphic Design team developed this into a visual proposal that was submitted to outside publishers. We're thrilled to partner with Princeton Architectural Press (PAP), who took our proposal and manuscript and brought it to life. We passed drafts back and forth with PAP's wonderful designers and editors over many months. This was my favorite part—design is what makes the book real! As an art museum, we always want to make sure that the art takes center stage. We tweaked the cover several times until we felt it looked right. I loved the idea of a knight and an animal in a friendly face-off, and our publisher expanded on that concept and came back to us with several cover options. I personally loved the snail, but my four-year-old adored the turtle, and it turned out that most of the grown-ups we checked with did as well!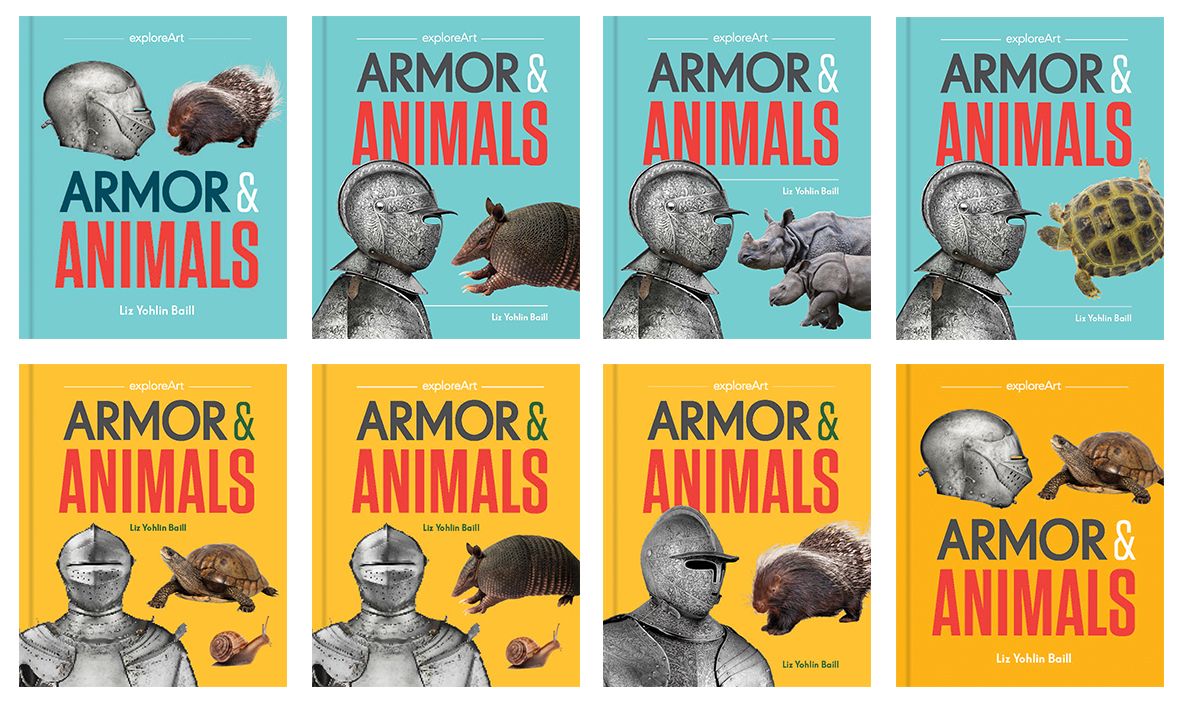 What are some of the other book ideas the Museum is working on?
We are so excited for more books to follow Armor & Animals as part of our "Explore Art" series. Next up is What Can Colors Do? which will be published in May and includes more than thirty-six artworks from every area of the museum's collection. The book builds from a basic introduction to color theory (colors can be warm and cool or primary and secondary) to explore more abstract and expressive ideas (colors can make music or show feeling). We're also in the very early stages of envisioning a third book focusing on portraiture, for which we'll be working with community partners to shape the direction we take. Our goal is to approach portraits and the relationships among artists, subjects, and viewers as a lens through which children can think about identity, perspective, and empathy.
Armor & Animals can be purchased here
Recent Posts
This Small Business Saturday get to know Peyton Flynn of Cloud 9 Clay. Peyton's focus with Clo …

We chatted with Liz Baill, Collections Interpreter for Youth and Families, to learn how inspir …

We virtually caught up with Ana Thorne to chat about her latest collaboration with PMA and her st …